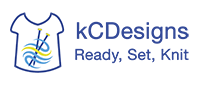 I got a new iPad for Christmas. My old one was probably an original iPad and it was ten or more years old. I used it regularly and it didn't owe me anything but it was not able to run a lot of the programs that I wanted it to run and it was time for an upgrade.
The main reason I wanted an iPad was so I could use the KnitCompanion app. I'd used the free app but I wanted to upgrade and pay for a subscription because I've read and heard a lot about how wonderful it is. My old iPad couldn't run the app.
I'm a serial paper pattern printer and I go through a lot of paper and ink and, although I recycle, it feels like a tremendous waste of paper if there's an app for that. And there is. The subscription is $25 a year. I'm pretty sure that I pay that for ink alone in a year. And there is so much wonderful stuff in the KnitCompanion app. I'm really excited about it.
Today I've been working on my Emsworth vest. I've followed the beginning of the pattern from my printed paper pattern and I had two pieces of highlighter tape in two different places to remind me where I was. One was on the chart and one was on the pattern. Today I uploaded the pattern from my Ravelry library to KnitCompanion and customized the chart so that the row I'm working on is highlighted. I also changed the coloring of the chart to mark and count the (RS) knit/ (WS) purl stitches so that I don't have to stop and count the long stretches of stitches, the app counts them for me. It's brilliant!
There is a highlighter in the app and the highlighter lines don't move when you close the pattern so you can work on another pattern – I was working on my Knubbelchen doll for my granddaughter. I'm heading into New York to help babysit when her dad is out of town later this month … I want to bring a few things with me and this is one of them. In advance of Valentine's Day. Anywho … I digress. I hopped out of the Emsworth pattern and into the Knubbelchen pattern and I can be sure that when I go back to work tomorrow, the highlighters will be exactly where I left them (not hanging inside my knitting bag.)
I've found a good tutorial on VeryPink Knits YouTube channel. They're really well done and they make great sense. I'm sure I'll be returning to remind myself about certain parts of the app like I did today to remind myself how to manipulate the chart so that it's easier to knit from. I'm one happy camper, uh, knitter!
Gone knitting.